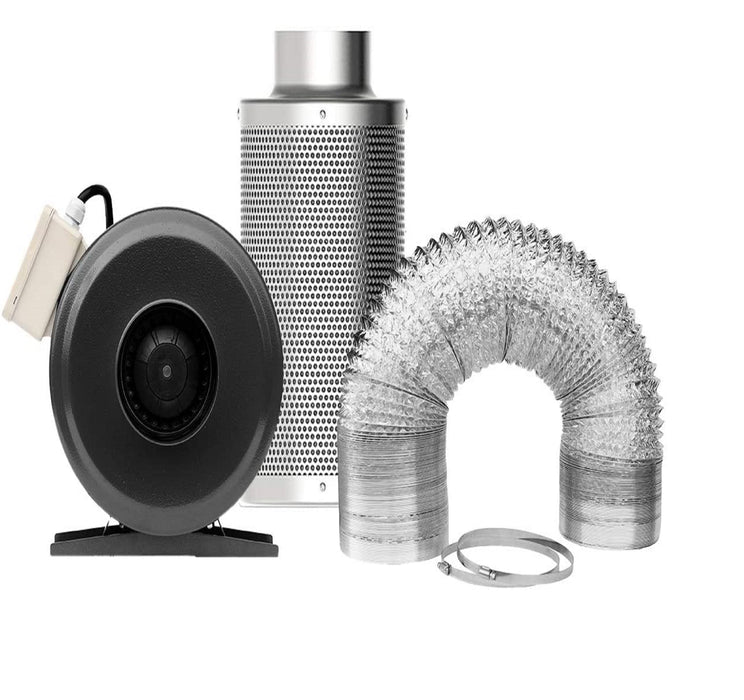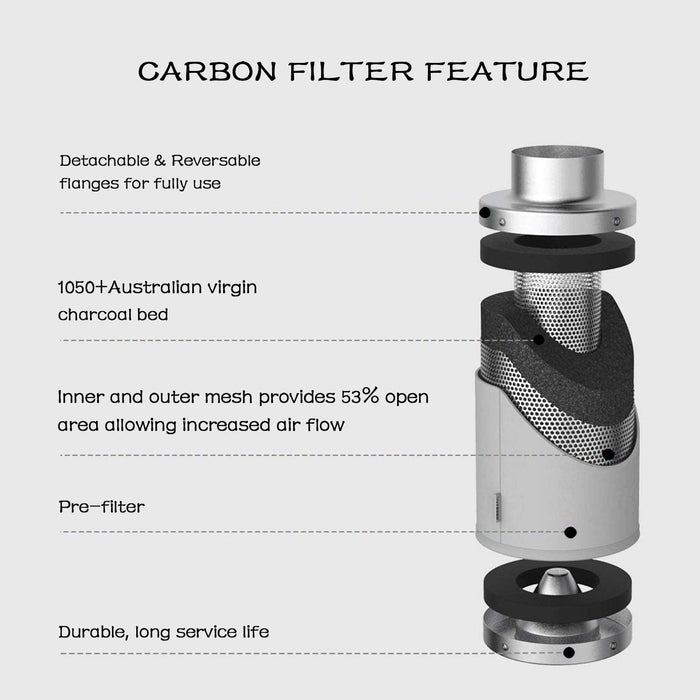 SunStream Inline Fan, Carbon Filter and Aluminum Ducting Combo for Grow Tent Ventilation
ADVANCED MADE EASY: Don't waste time buying and returning parts that may or may not be compatible or safe to use together! Three-part system includes every part you need to get set up.  

POWERFUL INLINE FAN: Power: 72W/135W  Current: 0.31/1.2  A Noise Level: 45 /62 dB; Fan speed: 2520/2500 rpm 110V/50HZ; ETL recognized components.
PREMIUM CARBON FILTER:4"/6" carbon filter, 12"/16" height, 1.5"thickness carbon; Interior and exterior mesh construction provides 53% open area for free air flow. Item comes fully assembled with easy on/off pre-filter and reversible flange.

SUPERIOR CARBON QUALITY: 1050+ RC 48 carbon uses the ultra-high surface area to increase air flow

STURDY DUCTING+ 2 Stainless Clamps: Strong, flexible steel wire supports heavy-duty triple-layer duct walls.PET core is sandwiched in layers of fire-retardant aluminum that can handle temperatures from -22 to 266 Fahrenheit.

Welcome to order large quantities.




Inquiry Contact: warranty@sunstreamballast.com
Sunstream Air Carbon Filter
1050+ RC 48 Australian Virgin Charcoal Bed.
Inner and outer mesh provides a 53% open area which allows for increased airflow.
Includes changeable velcro pre-filter.
Machine packed carbon enables 100% filtered air flow.
Switchable filter flange and base for long life.
Sunstream Non-insulated Flex Air Aluminum Duct for Ventilation Ducting w/ 2pcs 4 inch Stainless Steel Clamps
high-quality aluminum, temperature resistant, corrosion proof, durable
Three-layer thickness: (Aluminum Foil + PET + Aluminum Foil)
Flame-retardant coating; Temperature range: -22 to 266 F
Built-in steel wire for reinforcement and lasting performance.
Flexible length , Quick and easy to set up.
Sunstream 4 inch inline fan
Power: 72W

Current: 0.31A

Fan speed: 2520 rpm

110V/50HZ

ETL certified