SunStream 1000w Single Ended Grow Light Bulb with High PAR for Digital Ballast (HPS SE Six Pack)
Translation missing: zh-CN.product.general.by_vendor_html
Translation missing: zh-CN.product.item.badges.sale_percentile_html
SunStream 1000w Bulb High PAR (HPS Single Ended)
Optimized red & orange spectrum and high PAR

1000W HPS bulb compatible with electronic ballasts

SUPER HPS Lamp 1000W, ET25, 140000lumens, 2100K

Expected Bulb Life: 10,000 Hours Improved Lamp Life and Lumen Output

1 years warranty plus 30 days satisfaction or return guarantee.Our team of professionals is constantly working to make you easier with your planting. If you have any problems with it, please feel free to contact us
---

Product Description
SunStream is surely a new brand in 2016. However, we are one of the oldest companies specialized in electronic horticultural lighting ballast. SunStream has been producing OEM parts and ballasts for several major well-known brands. With 25 years of knowledge and experience, we are ready to step forward and present ourselves at the center of the international stage.

At SunStream, we use high-quality components to build the best products we can. Our innovational design and world class factory have forged millions of high-grade ballasts. Our goal is to evolve our products. To bring high efficiency and user-friendly products to every indoor and outdoor greenhouse facilities.

SunStream 1000w Single Ended HPS (High Pressure Sodium) bulb is a new line of grow lamps that promote enhanced vegetative growth and flowering. The lamps are made to assure consistency in quality and optimized for high performance. Features Super high output lamp technology Optimized spectrum, distribution pattern, lumen output, and irradiance Reliable operation throughout the growth cycle Highest quality and consistent performance.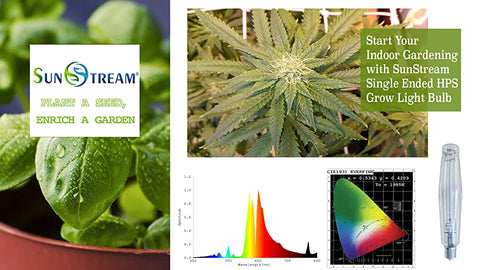 Thanks for choosing SunStream
Important information
Legal Disclaimer
Startup Time: 10secs allow 3-5mins for full Warm up. Please wait at least 5mins after power shut off before striking again
SunStream 1000w Single Ended Grow Light Bulb with High PAR for Digital Ballast (HPS SE Six Pack)
Extra-low lumen depreciation: maintaining over 90% of initial lumen output after running for 5,000 hours.

Optimized red & orange spectrum and high PAR (Photosynthetic Active Radiation) to stimulate flower growth and enhance fruiting.

Startup Time: allow 2-3 mins for full bright. After power off, do please wait at least 5 mins before striking again.

1000W SunStream HPS bulb compatible with electronic and magnetic ballasts, 140000 Lumens, 2100K, ET25

Lifetime: 24,000 hours. Warranty: 1 year