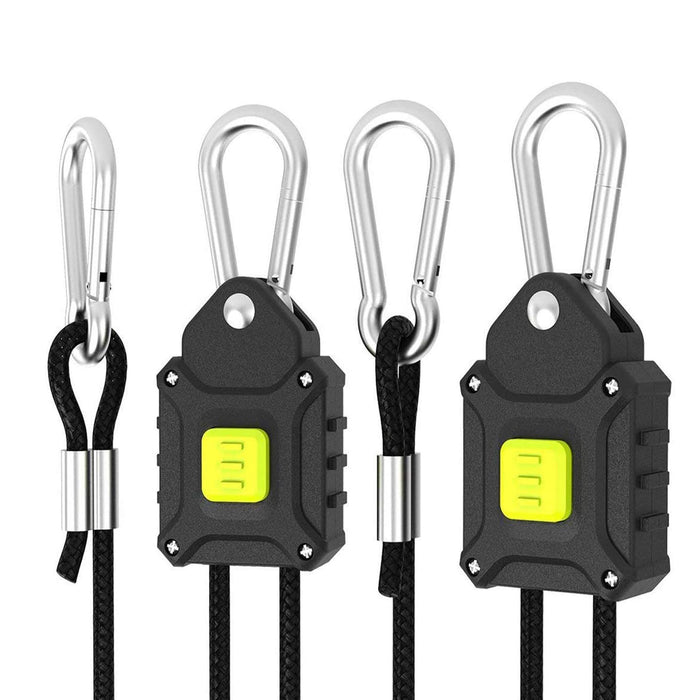 Raylux 6-Pair 1/8 Inch 8FT Long Heavy Duty Rope Ratchet with 150lbs Capacity Improved Design and Press Button for Easy Adjust
Translation missing: zh-CN.product.general.by_vendor_html
Translation missing: zh-CN.product.item.badges.sale_percentile_html
8′ braided polypropylene rope;Metal hardware and caribiner

Composite ratchet mechanism

Heat resistant composite housing

Use to securely hoist your lighting fixtures, reflectors, carbon filters and HVAC equipement

Weight Capacity: 150Lbs/pair; 24/7 customer support;
Product description
Item Parcel Quantity:6
Raylux 1/8 inch Heavy Duty Rope
Quantity:6 pair
Raylux 1/8 inch Heavy Duty Rope Hangers for Grow Light Reflector, Carbon Filter, Herb Grow Bag, Flower Pots, etc
This reflector suspension system enables you to raise and lower the light with just pressing one button.
With the tension mechanism, the hood will stay in place once set at the desired height.
Easily raise your lights when you are doing your routine work in the room, and just pull them down when you leave.
It also perfectly meets the requirement of adjusting the hood to provide different light supply as different plants grow stage.
Raylux  1/8 inch Heavy Duty Rope Hanger Key Features:
Sufficient Rope Length - 8 feet braided polypropylene rope ensures most flexible use
Excellent Weight Capacity 150lbs/pair - capable of most conditions
Extreme High-strength Zinc Plated Steel Hooks - unbreakable and provides stable & smooth adjustment
Raylux NEW VERSION Rope Hanger - For All Your Tie-Down Needs
The easy-to-use Raylux is the answer to all your tie-down needs for work or play.
The exclusive patented design and rugged construction let you secure a wide variety of loads quickly and easily.
Everyone is made super tough so you can depend on it to take all the hard work you do 
The rope is Solid Braided Polypropylene and the hooks are Zinc Plated Steel.
With Raylux - you simply attach the 2 hooks and pull the loose end of the rope to get the secure tightness you need.
With Raylux  Hanger you never have to worry about stretching, snapping back or loosening.
Your load stays secure because the rope automatically locks in place with every pull and stays locked until you release it by pushing the convenient Thumb Press Button