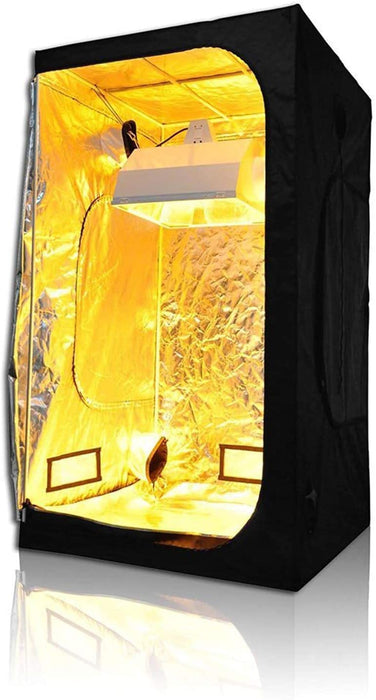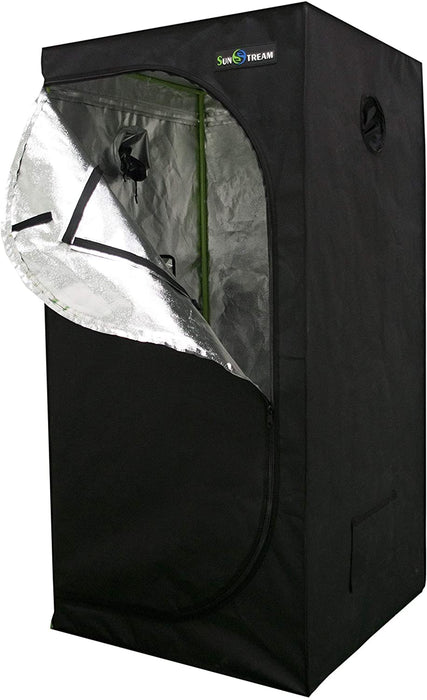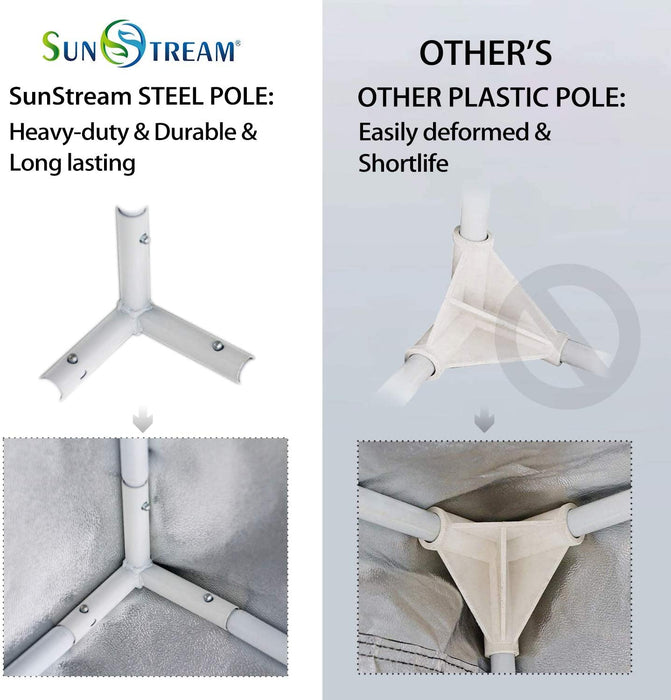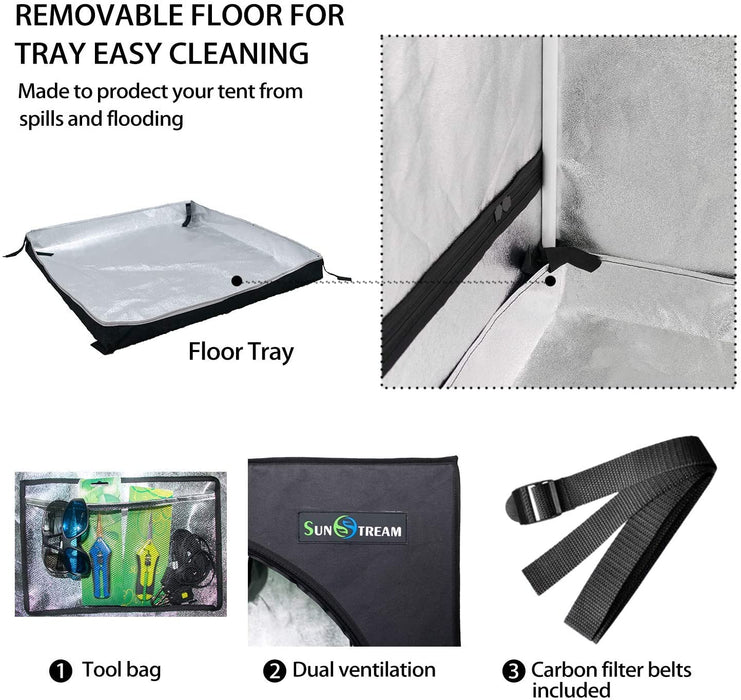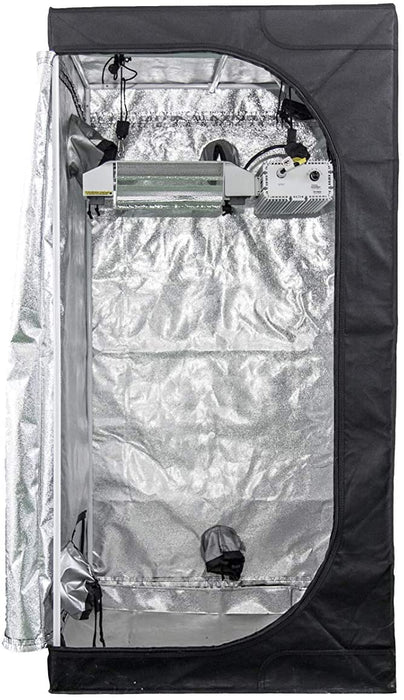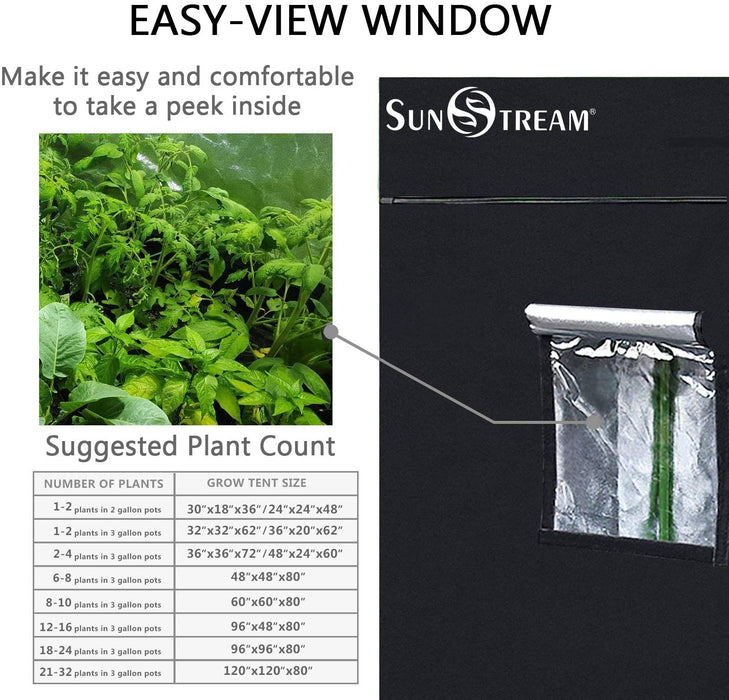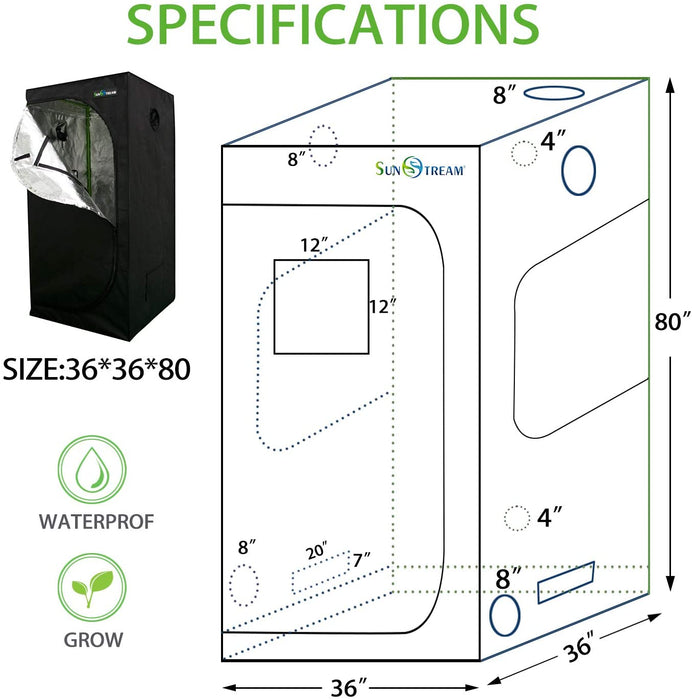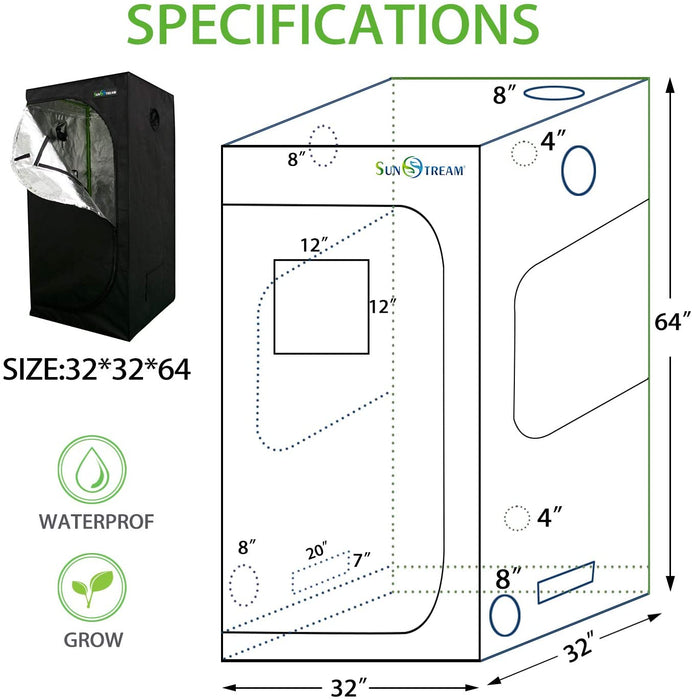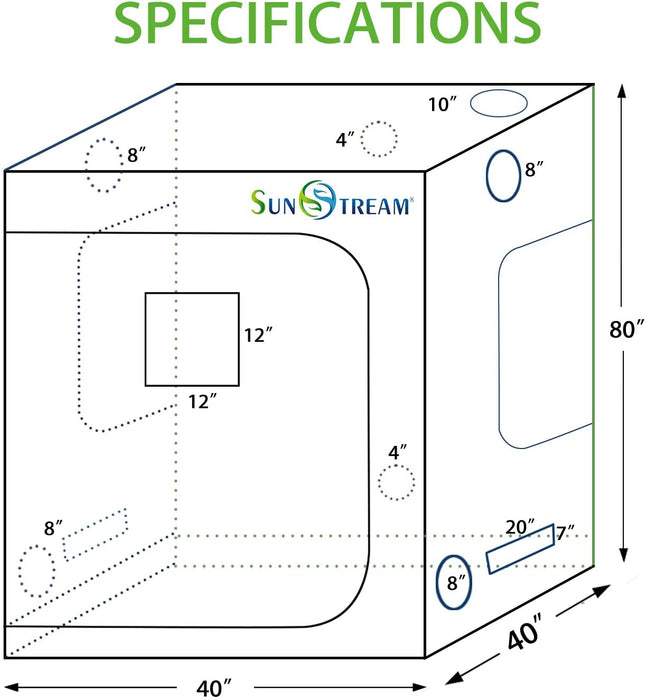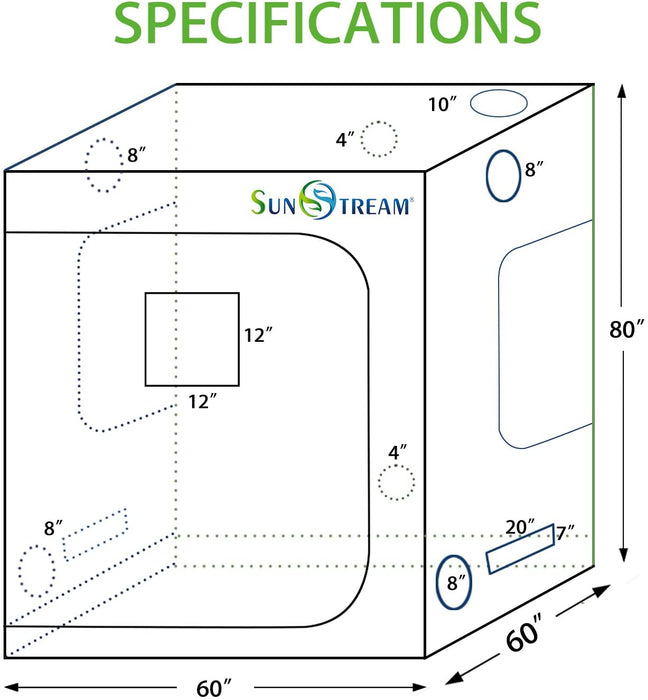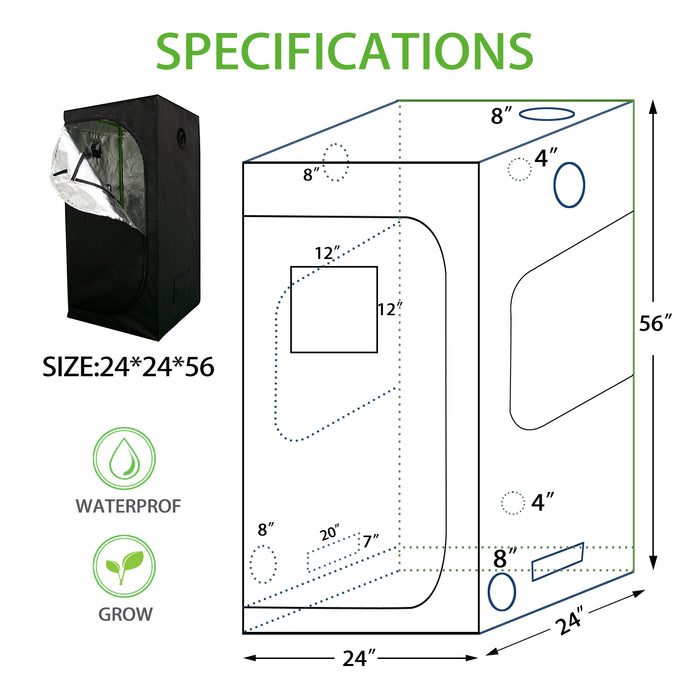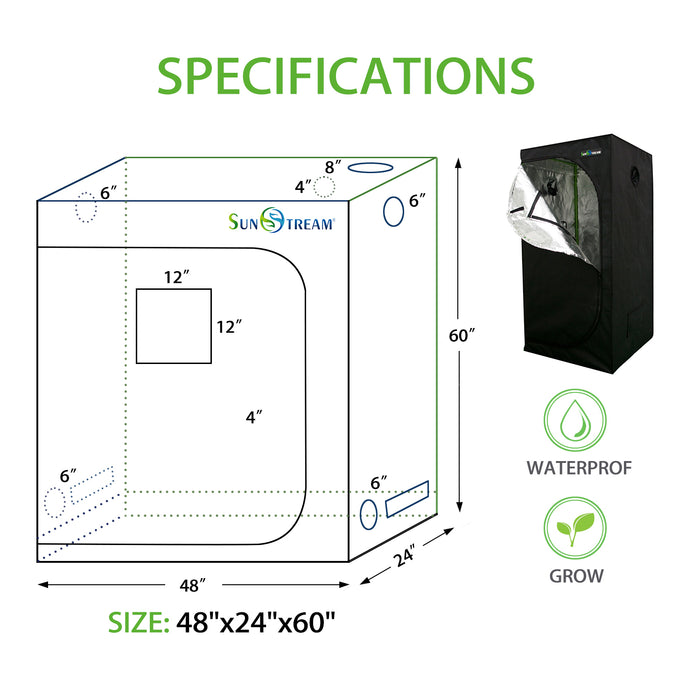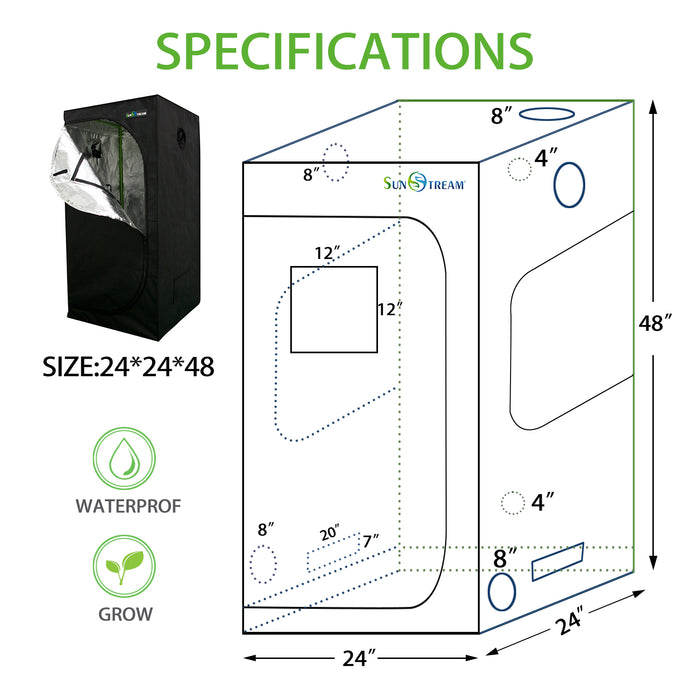 SunStream Hydroponic Grow Tent for Indoor Plant Growing, Lightproof with Highly Reflective Mylar Observation Window and Floor Tray
SunStream HIGHLY REFLECTIVE: This kind of plant growth tent is equipped with heavy-duty metal zipper, tight double suture, and high-strength reflective polyester film lining, which can block light escape and maintain the heat while using plant growth light so that plants can make full use of growth light to promote growth.                        

EASY OBSERVATION OF YOUR PLANTS: Our observation window makes it easy and convenient to take a peek inside. Our easy-access door unzips smoothly, and the observation window makes it easy to peek inside without disrupting their environment. And it's not easy to leak light  

EASY INSTALLATION: SunStream plant tents are easy to install even if you've never done something like this before. No extra tools needed, Reinforced by a sturdy metal frame to ensure security and stability. The hydroponic growing room is also easy to dissemble for clean-up or relocation.

FEATURING WITH: Circular double-sleeved vent holes with adjustable nylon strap for air circulation by exhaust fan, ducting, carbon filter, or reflector. Better allows proper light, heat, and airflow. Non-toxic to the environment, no harm to plants. Removable floor tray to avoid spillages. 

DETAIL AND ROCK-SOLID STABILITY: We've gone to great lengths to ensure our heavy-duty metal zipper is the best on the market. Structured with heavy-duty rust-resistant tubes for extended durability, the SunStream Grow Tent is strong enough to hold seed trays, pots, and plant growth light, and it is perfect for your plants, herbs, flowers, fruits, and vegetables to thrive even in winter.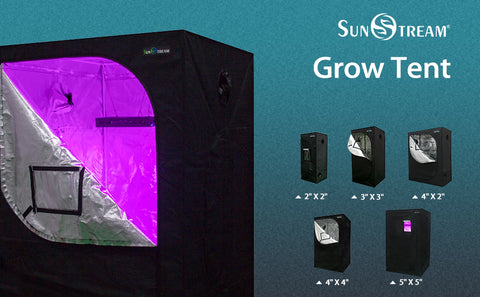 SunStream Hydroponic Grow Tent for Indoor Seedling Plant Growing, Observation Window, Water-Resistant for Indoor Seedling Plant Growing
Professional equipment in indoor culture
SunStream grow tent features extra-thick 600D canvas with metal poles and corner adapter which make it very stable.

Unique "diamond" reflective mylar design provide 98% grow light reflection and offer a superior indoor growing environments.

With plenty of vent that can be closed off or actually using the cables, ducting and fans.

The light green metal poles locks in place with no hardware needed.
What's included in SunStream box:

1.Tent body

2.Metal poles and connector

3.Filter straps

4.Floor tray

5.Hanging bar

Bring green to life!

SunStream provides you with the premium hydroponics equipment and services. It is our commitment to be the best indoor gardening and hydroponic store that you can trust.

Lightproof

Waterproof

Durable

Easy Assembly