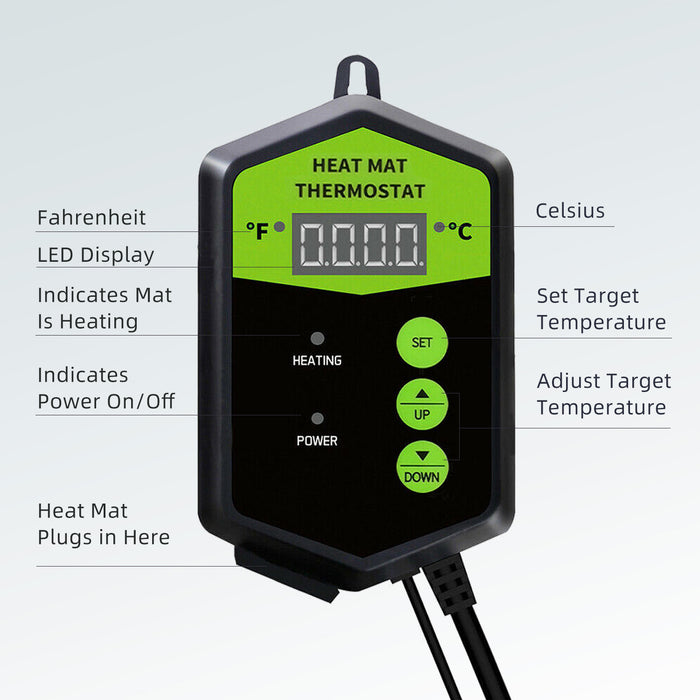 Raylux Digital Seedling Heat Mat Thermostat Controller 40-108℉
PROFESSIONAL RELIABILITY AND RESULTS: Regulates and maintains your preferred temperature within a control range of 40–108 ºF( Temperature display range is 32 -210°F); perfect for professional horticulturalists or the budding grower. Comes with a sensor probe so you can reliably track the temperature of your plant's roots 

HIGH-QUALITY CONSTRUCTION: The easy-to-grip hexagon controller is made from extra-fortified plastic and components that won't rust or malfunction under tough conditions.

ZERO-EFFORT SETUP & OPERATION: The controller comes with a manual, but you won't need to read it! Using 3 buttons, you can set a temperature or change the display between Fahrenheit/Celsius in seconds.

THE EASIEST CONTROLLER TO HANG & INSTALL: Ours is the only controller to come with a convenient hanging tab and a tight, angled socket to keep cords untangled and neat.

COMPATIBILITY & SAFETY GUARANTEED: Compatible with any heat mat and ready to plug into North American outlets, Raylux is the best choice for safe and professional heat-mat regulation.